June 13, 2022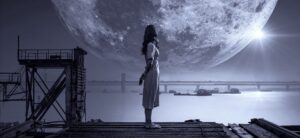 ---
A speculative fiction festival for the Harvard community to envision potential futures for humanity and inspire us to reflect upon and tackle challenges of today. Submissions due September 5th via email to undergradharvardsts@gmail.com and are open to any Harvard affiliate (faculty, staff, and alums included) and the broader STS global community.
ABOUT: Future Humans invites speculative fiction pieces produced by the Harvard community to be showcased during the 20th Anniversary of the Program on Science, Technology and Society at the Harvard Kennedy School in November 2022. Up to twenty submissions will be selected to mark the occasion for this anthology, to be published digitally with plans to print the publication (date TBD), and contributors will be invited to share their work at 20th Anniversary events (including top selections being featured at a keynote event with author Arundhati Roy).
THE ANTHOLOGY: For Future Humans, we challenge you to imagine a future where something fundamental about the world will be altered and you will explore the ways in which that may change how we think about ourselves, each other, and what we value. In short — who is affected by these changes, what does it even mean to be human, and what is at stake in shifting these meanings?
THE SUBMISSIONS: Any work of prose, poetry, or graphic/image/comic up to a maximum of 5,000 words (but much shorter is more than welcome!). Your entry can be about a future where humans are no longer bound by time or social/biological limits (as defined by whom?), or a future where we govern ourselves differently, or the role of humans in a universe where our primacy has shifted. Our editors will be especially keen for stories that seek to examine the underlying power dynamics in this future and whose ideas of the "good" are being articulated — and what is being gained or lost in the process. We encourage you to take this prompt in any direction and can explore it through any medium that involves text/words of some kind. Graphic stories, poems, and short stories are all great ways to show us your imagined future. If you have an idea and aren't sure if it would be appropriate for the anthology, please reach out and we will let you know :).
Pieces are due September 5, 2022 at midnight EST. Please email undergradharvardsts@gmail.com with any questions and visit sts.hks.harvard.edu to learn more about Harvard STS. Note that while the Undergraduate Committee for Harvard STS is curating this anthology, submissions are not limited to undergraduates and are open to staff, faculty, graduate students, affiliates, and members of the broader STS community.
BETWEEN NOW AND SEPTEMBER:
Enter your email below to receive updates directly from the Future Humans editorial team.
Start writing your piece and ask us any questions at undergradharvardsts@gmail.com.
Submit your story by September 5, 2022 midnight EST by emailing undergradharvardsts@gmail.com.
If selected, your work will be published digitally in the first-ever Future Humans Anthology and you will receive a special invitation to the Harvard STS 20th Anniversary Celebration. We have plans to print this publication, release date TBD.